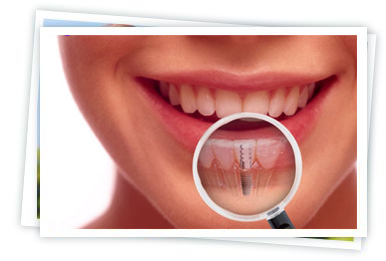 For many years, your only options if you've lost a tooth were dentures and bridges.
But advances in dentistry now allow the use of dental implants.
These are replacement tooth roots usually made of materials compatible with the human body, such as titanium. They offer stable support for artificial teeth.
Bridges and dentures are mounted to implants, and with crowns placed over the implants nobody else may realize that you lost some teeth in the first place.
There are several benefits of using dental implants:
They last for many years. With proper care, they may last for a lifetime.
They improve your appearance and comfort. Dental implants with crowns look like natural teeth, and they feel natural too.
They boost your self-esteem. You don't have to feel self-conscious when you smile or speak because you don't want to show the gap in your teeth.
They help you speak more clearly. If your dentures don't fit you well, they can slip inside your mouth. This can cause you to slur or mumble when you speak.
They're more convenient. Removable dentures can cause you some embarrassment and inconvenience when you remove them. You may also have to deal with tiresome and messy adhesives to keep your dentures in place.
In contrast, dental implants are permanent and designed to stay in place. They're made to fuse with your jaw bone.
They make it easier to eat. It's hard to chew your food with dentures, especially when they have a tendency to slide. The dentures can also make chewing painful. With dental implants, you can enjoy your food without worries, and without pain.
They boost your oral health. With regular bridges, it's often necessary to remove some of your teeth. With dental implants, that's no longer the case. Dental implants also make it easier for you to clean the space between your teeth, which is great for your oral hygiene.
Consult us if you've lost a tooth or a few teeth. We can check if you have healthy gums and adequate bone to support dental implants straight from Coastal Smiles office.