Whether you just need a cleaning or wanting a brand new smile, Coastal Smiles Family Dentistry will provide you with outstanding dental treatment. We know that your time is valuable, this is why we provide a wide array of services under one roof, thus, avoiding referring patient outside our practice for specialty procedures. Our job is to make sure you and your family receives the best treatment and experience possible.

Services offered
6 months smile
Are your unhappy with your smile? Are your teeth crooked or have unwanted gaps? Do you want straight teeth but do not want to wear braces for two years? Six months smile may be the solution you've been looking for.
Six Month Smiles® is a modern twist on tried-and-true orthodontics. There is little debate within the orthodontic community that braces are the most widely used and most effective method to give patients straight, healthy teeth and a beautiful smile. Six Month Smiles has taken the best aspects of braces and modified the treatment and the materials to give adults a common-sense, cosmetic solution that fits your lifestyle. Here is what makes Six Month Smiles so innovative …
Average treatment times of only six months
Six Month Smiles' clear brackets and tooth-colored wires are barely visible
Use of braces has shown to provide the most conservative and predictable final result
Six Month Smiles Patient Tray Kits™ ensure that your appointments are fast and comfortable
Low forces and short overall treatment time increases safety and hygiene
Six Month Smiles is typically less expensive than traditional braces, aligner therapy, or veneers
Please call for your free consultation today!!!!! Visit 6monthsmile.com website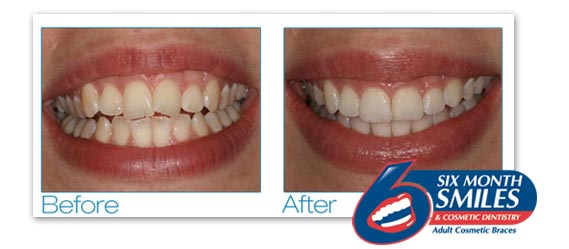 Complete Exams
Each new patient will receive a comprehensive oral exam which includes digital xrays, head and neck exam, oral cancer screening, and checking for gum disease. Your oral health is very important and may affect your overall health. Your mouth is the window to your body as many medical conditions shows up in your mouth before symptoms are detected elsewhere. Thus, it is important to get a dental exam done twice per year to.
This type of cleaning involves using specialized instruments to gently remove deposits without harming the teeth. Once all surfaces are smooth, we will polish your teeth with a soft "rubber cup" that spins on the end. This process is to smooth the surfaces of your teeth to minimize plaque adhering to your teeth.
If you are diagnosed with active gum disease, we would like to treat it first using the least invasive and most cost-effective manner. This is often through non-surgical periodontal treatment. This procedure involves careful cleaning of the root surfaces to remove plaque and tartar from deep periodontal pockets and to smooth the tooth root to remove bacterial toxins. If necessary, adjunctive therapy such as delivery of local antimicrobials directly into the pockets is performed. If your gum disease is severe, periodontal surgery may be required.
Unlike the silver amalgam fillings, composite fillings also known as "white fillings" will match the shade of your natural teeth making this an excellent cosmetic option. This restoration material could be use to filled cavities, or to replace those worn out silver fillings.
Teeth whitening has become one the most popular and cost effective ways to enhance your smile. We offer in-office whitening, where we could whiten your teeth as much as 5 shades lighter, or, we can make you custom bleaching trays where you can whiten your teeth at the comfort of your own home.
As we age, many of us find ourselves with teeth that are no longer structurally sound. This could be due from having a tooth that has been restored multiple times, root canals or chipping of the enamel. When there isn't enough tooth structure to support a filling, the tooth will need a crown to restore the tooth's natural form and function.
A bridge may be recommended if you're missing one or more teeth. Gaps left by missing teeth ultimately cause the remaining teeth to shift and or rotate resulting in an imbalance bite. This could potentially lead to gum disease or TMJ disorders. A typical bridge will be anchored to the teeth in front and behind the missing tooth/teeth and will have a false tooth to replace the missing tooth/teeth. You have an option to have the bridge fabricated from precious metal such as gold or made with porcelain for a natural appearance.
If you have cracked or discolored teeth that needs more than teeth whitening, veneers are excellent in restoring your smile. Veneers are thin shell that coats the teeth to give them a better appearance. It is a very conservative procedure requiring very little to no tooth structure removal.
A dental implant is the gold standard of replacing missing tooth or teeth. Dental implants are made out of titanium which is 100% biocompatible. It replace teeth permanently without treating or touching adjacent teeth, and the end result is that only you will know that you have ever lost a tooth.
It is important not to ignore the need for removing wisdom teeth. If left uncared for, wisdom teeth can not only damage nearby teeth, but the jawbones and nerves. Most adults do not have room in their jaw to allow the full eruption of wisdom teeth. In such case, this will cause the tooth to be partially erupted or become impacted. This can cause continuous irritation around the area and potentially lead to infection and the lost of the adjacent teeth if left untreated.
TMJ
Temporomandibular joint diseases, commonly known as TMJ or TMD, are a category of conditions that cause symptoms such as chronic headaches, migraines, neck pain, and possibly popping of the jaw. Many who suffer this disease clench and/or grind their teeth during the night or subconsciously during the day. Grinding your teeth can create a great deal of force on your jaw, which can ultimately cause damage to your teeth and jaw joints. A fabricate you a custom night guard to fit around your teeth, which could be worn at night when you sleep or during the day. Doing this can help protect your teeth from the harmful effects of grinding and clenching and prevent further damage.
Sports mouth guard
Do you know that the U.S. Center for Disease Control and Prevention estimates 300,000 people get sports related concussions a year, with children and teens at the highest risk. This is on top of the 600,000 kids who end up in the emergency room each year for sports-related dental accident. We can custom make you a mouth guard to prevent damage to the teeth, jaw and inside of the mouth.
A dental emergency can be a serious situation, which should not be ignored; it needs to be treated immediately. It could mean a difference of saving or losing a tooth. If you have a dental emergency, call us right away, we can most certainly see you the same day.
Signs that you may need a root canal
Severe toothache upon chewing
Lingering pain to heat or cold temperature after the hot or cold has been removed
Discoloration or darkening of the tooth
Swelling and tenderness in the nearby gums
A persistent or recurring pimple on the gums
Please call us for a consult if you are experiencing any of the symptoms above.
Dentures and Partials are the most affordable and least invasive method of replacing missing teeth. We use the latest technique and material to make dentures and partials to look as natural as possible making them virtually impossible for others to tell that you are wearing them. Not only it will restore your smile, but it will increase your chewing efficiency.
We specialized is short term adult cosmetic braces.
Oral sedation
Are you extremely nervous about going to the dentist? No problem. With oral sedation, you simple take one pill the night before your appointment to help you sleep, and one pill one hour before your appointment. The effect of oral sedation will make you feel relaxed; you will still be conscious and be able to respond to our command during treatment.